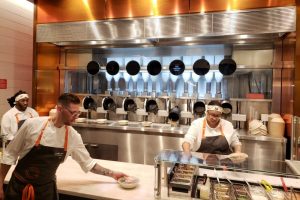 Spyce's restaurant uses robotic cooks to churn out grain bowls for hungry customers.
The company was founded at delta V, a start-up accelerator at MIT.
Chef Daniel Boulud is advising Spyce as its culinary director.
This restaurant replaced human chefs with robot cooks  
Automation is infiltrating the food and hospitality business, from ordering kiosks at McDonald's to the robotic bartender aboard the Royal Carribean's cruise ship the Symphony of the Seas.
Rather than make technology to be used by other food businesses, one start-up called Spyce has started a fast-casual restaurant with a robot-operated kitchen in Boston. The company makes what it calls "complex meals," a.k.a. grain bowls, using robots to dispense and heat ingredients, and humans to apply garnishes and extras. The recipes were created with Daniel Boulud, a well-known French chef with eponymous restaurants in New York and other cities.
The Spyce kitchen is basically a machine that's loaded up with prepped ingredients, vegetables, protein and grains. It takes an order, measures the right portions of each ingredient and dispenses them into a drum-like wok. The wok turns slowly by an electric burner, brings the food to the ideal temperature and then drops the meal into a disposable serving bowl.
Spyce's menu includes dishes like the Hearth bowl, made with Brussels sprouts, sweet potatoes, sauteéd kale, apples, quinoa, yogurt and a balsamic glaze; and the Thai bowl, made with roasted chicken, sweet potatoes, bok choy, brown rice, shallots and garlic in a Massaman curry sauce.
According to McKinsey Global Institute, 400 to 800 million jobs will be automated by 2030 thanks to advances in robotics and machine learning software. Spyce has a stated goal of not replacing human chefs, but helping them work faster, and make delicious meals more consistently, in its restaurants.
Spyce has raised venture funding and grants to get its flagship restaurant in Boston off the ground. The company was founded by Braden Knight, Luke Schlueter, Michael Farid and Kale Rogers at MIT delta V, a start-up accelerator.